Back to School: Set Up for Failure
September 14, 2020
By Leticia Tomas Bustillos, AAUW Action Fund Federal Policy Manager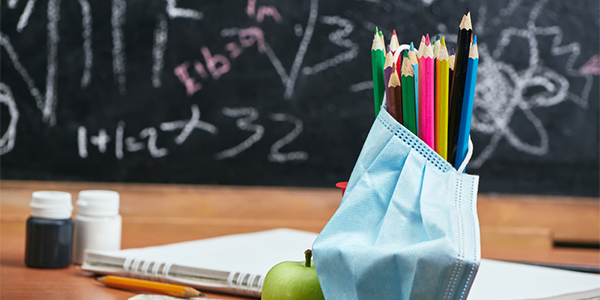 Sometimes, the images and stories echoing across social media are funny. The colleague whose 5-year-old child is sprawled out on the floor, one arm covering his eyes while the other holding tight to his iPad, declaring that online kindergarten is exhausting. My friend, the stay-at-home mom, whose English degree lost its valiant battle with 4th grade math. And my own child, the newly-minted high school freshman, pantomiming off to my right that she has an emergency that just can't wait until the end of my call. All the while her father is sitting less than two feet away and not in a meeting. But the laughter quickly fades upon seeing the image of two little girls sitting in the heat outside a fast food restaurant because they need to access its free Wi-Fi to complete their schoolwork.
The COVID-19 pandemic has had a devastating impact on children. Instead of the excited frenzy and anticipation that typically precedes "back to school," parents are instead making difficult choices about our students. Do we brave unknown health risks and send them back to school? Or do we maintain quarantine, keep them home, and risk the unknown of distance learning and social isolation? Do our professional, economic, and caregiving situations even provide us with a choice? For some parents the answer is a clear, resounding "no."
In March when the pandemic first hit, school district personnel were quick to respond by shuttering schools and shifting to distance learning to ensure the safety of teachers and students. Six months later the pandemic remains unabated with no concrete plans to address the resulting educational crisis. It has exacerbated persistent inequities and placed an undue burden on our most vulnerable and marginalized students. And now we must face the shocking reality that more than half a million children have tested positive for COVID-19.
AAUW Action Fund Fact Sheet: 2020 Presidential Candidates on School Reopenings
The response to this crisis has been uneven and at times, unbelievably cruel. In March, the CARES Act was quickly passed to provide immediate relief, which included funding for schools to meet the needs of students and families. Then the House of Representatives passed the HEROES Act in early May to provide additional assistance. However, the Senate has taken "a pause" on relief spending, leaving families to contend with the harsh realities of pending evictions, expiring unemployment insurance, and food insecurity. And in July, President Trump and U.S. Secretary of Education Betsy DeVos threatened to withhold federal aid if schools do not physically reopen—all without supplying administrators with any guidelines for how to do so safely. Rather than responding with appropriate funding and guidance based on science and the latest medical research, school reopenings are so mired in politicized rhetoric that the advice provided by the Centers for Disease Control lacks credibility.
The inaction by our elected officials has left Vanessa, a vice principal in California with students who attend school in person, worried about whether masks, face shields, and strategically placed dividers will sufficiently protect her students from contracting COVID-19. At the same time she worries about her own son at home who is missing out on his high school experience and may not be adequately preparing for college. Jenifer, a teacher in Maryland, is coordinating with five other families to set up a learning pod for their 10-year olds to have as "normal" of a learning environment as possible. While Jenifer and her fellow parents will each take turns hosting and supervising their children, learning pods have quickly come under strict scrutiny: who has access, what is the quality of this type of education, and will this lead to funds being diverted from public schools and needy students?
Many parents are left with questions and fears, while others are being handed an untenable situation. At the same time schools and educators are grappling with unknowns and are vulnerable to political ploys. And caught in the middle are our students, some of whom must sit outside Taco Bell to access something as fundamental as Wi-Fi. There is no one right answer or easy solution, but our elected officials are currently failing our children. We must demand comprehensive, compassionate, science-based responses that work for those most at risk of being left behind.
For more direct analysis on these issues, click here for the AAUW Action Fund Fact Sheet: 2020 Presidential Candidates on School Reopenings.