Equal Pay Day is April 14!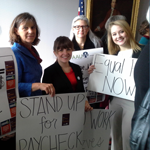 Equal Pay Day is the symbolic day when women's earnings "catch up" to men's earnings from the previous year. It takes an extra three months, thanks to the gender pay gap. On Equal Pay Day, and throughout the month of April, organizations from across the country join together to hold events that will educate our communities and send a message to our elected officials. Hosting an Equal Pay Day activity can be as easy as writing a letter to the editor or meeting with your elected official to urge support for equal pay legislation. You can also join the conversation on Twitter using #equalpaynow!
2014 Midterm Election Breakdown
The midterm election of 2014 has come to a close, and a big thanks goes to everyone who helped register and educate voters. Want to know the final breakdown and how women fared? State ballot measures were the big winners on Election Day, with voters supporting minimum wage increases and paid sick days. Listen to AAUW's Vice President of Government Relations Lisa Maatz give a debrief on the election outcomes, and be sure to read her blog to learn about eight takeaways from the midterms.
Congressional Voting Record for 113th Congress
The Congressional Voting Record provides information about senators' and representatives' votes on priority issues for women and girls. Largely viewed as mired in gridlock, the 113th Congress did manage to move forward a couple of AAUW priorities, including the Violence Against Women Reauthorization Act, proving once again that advocacy can make a difference. The voting record can be used by members and concerned citizens to hold their members of Congress accountable.
Learn More About Lobby Corps
Once a week, volunteer members and college student interns give the AAUW Action Fund a voice and a face on Capitol Hill. No experience is necessary to join Lobby Corps, and comprehensive training is provided. E-mail votered@aauw.org to sign up.