2016 Voter Issue Guide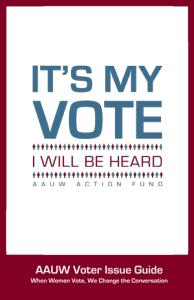 What's at stake in this election? Find out using the AAUW and AAUW Action Fund's 2016 Voter Issue Guide. This helpful handout provides concise information about key policy issues in the 2016 election, including the gender pay gap, family leave and paid sick days, college affordability, campus sexual violence, and reproductive rights. Use it when you table on campus, attend a town hall, or host a candidate forum. The guide even includes topical buzzwords and questions to ask candidates.
Research shows that a lack of information on the candidates and a lack of policy debates on issues of importance is the main reason some millennial women don't participate in the election process. Help combat the dearth of information. Download and print the guide, share it online, or order a print copy.
Read Now